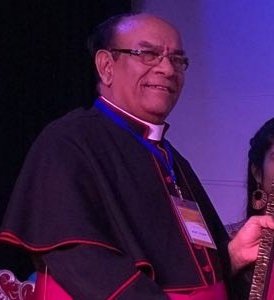 Dear Parents,
I am highly honoured and privileged to know that Christ the King School which had a humble beginning in the year 1972, in the heart of small city of Tundla, has now become Christ the King Inter College, grown by leaps and bounds, to provide the educational needs for the people in and around the city of Tundla. The people of Tundla can be really proud of its yeoman service that is being provided all these years of its entity.
I must really congratulate you on your constant efforts and determination to make this prestigious institution at par with the best schools in the country. May you continue to serve God and Humanity in this fruitful manner, as you have been, in the years to come.
We cherish the fond memories of all those people who associated with this institution from the very beginning, with gratitude: His Grace, the late Archbishop Most Rev Dr. Dominic Athaide OFM Cap, our beloved teachers and late Mrs. Kohli, Late Rev. Sisters Norbetina, Vincent, Late Adv. Mr. M. N. Gupta, Late MP, Chaudhary Multan Singh, Late Mr. and Mrs. S. K. Gupta (both Railway Doctors) and all our well-wishers and benefactors.
It is my prayer and hope that Christ the King Inter College would continue as beacon of peace, unity and love with its secular values for the people to emulate.
God Bless You!
Very Rev. Msgr. K. C Thomas
(Founder Principal)